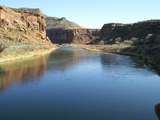 E-mail
Saturday, March 25, 2000


If you're interested at all in what I've been up to lately, you can take a look at My Own Private Arizona where you'll find a pull-down menu which will access several photo galleries of things in and around Tucson and Sothern Arizona.

And here's something new too, our first ghosttown site since, oh what...nearly a year now...take a look at Piedmont, Wyoming an old railroad ghost located East out of Evanston.
This place was DEAD!


Bill | 3/25/2000 05:41:00 PM |


Finally,
a site I can relate to,
take a look at the Official Darwin Awards where you'll find evidence
we may have evolved from yet a simpler form of life!
-Bill
Bill | 3/25/2000 07:49:00 AM |



Interested in what others might think? Check out the latest threads at the Blogdex link!




Friday, March 24, 2000
Hi,
We've been supporters of the Gray/Mexican Wolf Re-Introduction for a few years now.
Just saw this in an e-mail newsletter:

WOLVES RETURN TO THE GILA WILDERNESS AT LAST
The U.S. Fish & Wildlife Service has finally issued a decision approving
the release of endangered Mexican gray wolves directly into New
Mexico's Gila Wilderness. The Center developed a "Wolf Safe Haven
Plan" in 1999 to encourage the agency to introduce wolves to the Gila/
Aldo Leopold wilderness complex after five wolves were shot in eastern
Arizona. New Mexico's Gila Wilderness area has few roads or cattle,
but plenty of good wolf habitat and prey species. The plan and our
New York Times ad promoting its adoption is available at:


Most of the 9,000 comments received on the Fish and Wildlife Service
proposal supported reintroduction to the Gila.

Four wolves from the previously re-captured Mule Pack were scheduled
to be placed in temporary on-site acclimation pens in the Gila today
where they will be held for up to 30 days before being released into the
wild. The pack consists of a male, a pregnant female, and two pups. The
Pipestem pack will released in another portion of the Gila Wilderness
later this month. It consists of a pregnant alpha pair, three pups, and a
two year old female. The female may not be released as half her leg
was amputated during her ill-conceived recapture.

Additional wolves were also recently reintroduced to Arizona's Blue
Primitive Range. On 3-14-00, the Steeple Creek Pack, consisting of an
alpha pair and three pups, was placed in an acclimation pen. They will
be released into the wild before elk calves are born this spring. There are
currently 13 wolves in Arizona's Blue Range, including the Steeple Creek
pack of five, the Campbell Blue Pack of four, and the Hawk's Nest Pack of
four. A lone yearling from the Gavilan pack has crossed from Arizona into
New Mexico and has been repeatedly seen in northern portion of the Gila
National Forest.

Yay, it's weekend!
See ya soon!
-Bill

Bill | 3/24/2000 04:12:00 PM |



Interested in what others might think? Check out the latest threads at the Blogdex link!




Thursday, March 23, 2000
Still testing, just installed a right click registry entry to access the log field.
Now I can jot down an entry and post it from any web page I happen to be at.

Two Lane Love
Bill | 3/23/2000 10:16:00 PM |





Taa Daa !!!

Now we're getting somewhere!

Hi, and welcome to my first weblog.

This is going to be where I get the chance to spit out my two cents worth....whenever the need arises :-)

Stop back soon...I got this reputation for being kinda vocal at times...

I may have something to say about,

the weather (hey, it was 48 this morning...does that sound like Spring, or what?)

or

the job (day in and day out at the old jet factory)

or

the commute (those lovely times of the day when we're at our very best :-)

or

living in the big city (police...helocopters...gunshots...)

or

who knows, probably mostly what's new at the photo sites I put together quite regularly as I practice/play with my new Canon A50 digital camera, love it.




Take it easy everyone!

-Bill

Bill | 3/23/2000 07:23:00 PM |

First Post! Still trying... Bill | 3/23/2000 06:52:00 PM |

Okay, looks like this is going to work. Are you ready for this? Bill | 3/23/2000 06:33:00 PM |

Ready...Set...Go!!! Bill | 3/23/2000 06:31:00 PM |



Interested in what others might think? Check out the latest threads at the Blogdex link!
Interested in hearing when I've posted?