Way Out West FAQ's
Back To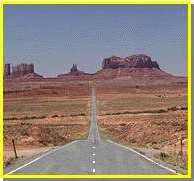 The Show
---
The ghosttowns of Way Out West!
We've been motorcycling across the nine western states of Arizona, New Mexico, Utah, Colorado, Nevada, Idaho, California, Montana and Wyoming looking for what we could find in the way of ghosttowns.

There is quite a mix, some are "true" ghosts where not a soul lives, some are sparsely populated with as little as three and some are living towns, though just shells of their former selves.
---
The physical location varies. We may have been able to find a certain location right off the pavement, or it could have been a couple of miles down a dirt road, but the best were often 20 to 30 miles off the highway.
Off pavement:

These were towns which were located along a well travelled paved highway, but for one reason or another fell into ruin. Location was minor considering the fact that it was the mine that provided the lifeblood of the community.

Down the road:

More often than not the mining operation was located not along the highway, but closer to the foothills of some adjacent mountain range. These towns were usually company towns. Often many of these company built homes are still occupied, having been kept up and passed down or sold.

Way back:

Sometimes we had to ride along dirt roads upwards of 30 miles across desert or through mountain passes in order to get to a particular townsite. These were the hardest, considering we were always on two wheels. Don't forget, that's a STREET motorcycle with my wife as passenger and a week or more of gear. Navigating washed out mountain roads with over a thousand pound machine over a thousand miles away from home is a challenge.
---
The Big Houses of the Old West!
In keeping with our theme of exploring the old mining camps of the West we found ourselves interested in taking a look at these old out of service prisons. My wife loves forensic science and criminal investigation type shows, and I thinking about how bad it can get for those who wrong others, so we felt right at home checking these places out.

I'm sure life must have been miserable here, in fact, after visiting 5 different prisons I can safely say they got what they had coming. We had no problem checking out the actions of the gallows or feeling the cold steel of the gas chamber.

I guess you've figured out by now what our feelings are on the death penalty.
---
Ever since the Federal government announced it was planning to reintroduce the Gray Wolf into the American wilderness, we have been following and supporting this cause.

But this is not what my photos are about on this site.

We've visited 2 captive packs in Idaho and Montana. The Wolf Education and Research Center in Winchester, ID home of the Nez Perce Sawtooth Pack , the original pack Jim Dutcher lived with during his study of how wolves lived in the wild, and The Wolf and Bear Discovery Center in West Yellowstone, Montana.

We also have been to 3 different wolf hybrid sanctuaries in Colorado, New Mexico and Arizona. This is where the line has been drawn for most of these animals. Due to a problem of some kind (most often stemming from the fact that you shouldn't cross breed wild animals with domestic dogs) these wolf hybrids must be taken out of society. These sanctuaries provide a place where they can live out their lives.
---
Everything else!
Wee Ones

Over the many years of motorcycling we've taken a different stuffed animal with us as a mascot on every trip. I found myself documenting our crossing state lines with them as foreground subjects. Each animal has it's own little gallery. You'll notice the same sign in different galleries representing a different trip with a different animal travelling down the same road.

Florida

We flew to Florida this past Spring of 2000. My folks live in Daytona Beach, but we couldn't pass up the opportunity to see the oldest town in America, St. Augustine. Visited things old and new. Take a look at The Castillo De San Marcos in St. Augustine, The St. Augustine Lighthouse, or even the Alligator Farm.

Arizona

Here you'll find a variety of photo subjects in Tucson and around Southern Arizona

Dogs

Some early photos of our dogs Magic and Bryce.
---
Background courtesy of

Nevada Dansie